About Emerson Rush
Founded in 2000, Emerson Rush is a privately held, international business firm that transforms organizations on an SAP platform as a systems integrator and trusted advisor. With offices in Canada, Mexico, USA and France, Emerson Rush serves clients with unequaled expertise, capabilities and committed resources across many industries and business functions. Focused on value creation and achievement of business cases, Emerson Rush has established a worldwide reputation and received awards as SAP and Business Transformation experts.
We have shown that successful business transformation relies on deep experience and understanding of the industries and the technologies that drive them.
At Emerson Rush, we believe in proven experience as a source of value through cloud business solutions.
We only entrust our results to experts with exposure to world-class success stories, while managing an international mix of resources and an infrastructure that enables the delivery of the right-sized and right solutions every time.
Oriented to business cases, driven by value creation.
Delivered through the right people.
We challenge the status quo approach to business transformation.
We believe in delivering value with a focused approach at all levels, through core industry expertise, our ability to bring together the right people for the right solution, and a dedicated commitment to our customers throughout their value chain. 
We challenge the status quo approach to business transformation.
We believe in adding value by our unique, focused approach at every level, through our core industry expertise, our ability to match the right people for the right solution and our dedicated commitment with our clients across their entire value chain.
We transform organizations as an SAP systems integrator and as a trusted advisor, achieving business case success through an array of tailored services and solutions.
As certified SAP service partners with an international infrastructure that supports our business model we bring long-standing value by accelerating implementation times and reducing costs of our customer's solutions with cloud business solutions integration.
We have an extensive network of SAP professionals and experts in various industries, deployed in Europe, North America, and South America. Each resource is compliant, reference system access, and experts in network solutions that guarantee the highest quality.
We adhere to the most complete selection process and guarantee the quality of our professionals based on:
Talent, knowledge and proven experience directly applicable to the position for which they are presented.
Recognition in the market for the quality of its performance.
A rigid alignment with the values ​​and methodologies of Emerson Rush.
Technical and commercial skills to ensure clear
definition and communication of objectives.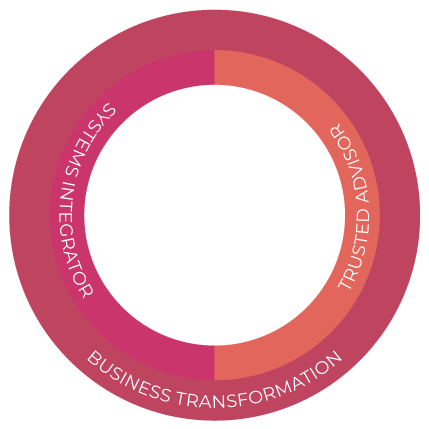 SAP Quality Award Gold Winner 2010 / New Business Application Implementation VODAFONE 
Our clients
Our experience in different sectors:
| | | | |
| --- | --- | --- | --- |
|    CANADA | USA | MEXICO | EUROPE |
|    NSLC | NMHG  | BMW | Tenovis |
|    Laura Secord | Mizuho | Liverpool | Delhaize |
|    Aritzia | Aruba | Femsa | Alcatel |
|    Smitty´s | Tamko | Allied Domeq | Vodafone |
|    Bata | Ebay | Sauza | Ericsson |
|    Sobey´s | Phillip Morris | Grupo Corvi | Cora |
|    Loblaws | Pepsico | Grupo Gigante | Serap |
|    Canada Post | Walmart | Polar | Schmidt |
|    Maple Leaf Foods | Office Depot | Osram Sylvania | Osram Sylvania |
|    Plexxus | JC Penney | Ferromex |   |
|    Mt. Sinai Hospital | Zales | Cemex |   |
|    Aventis | Chico´s | Famsa |   |
|    Nestlé | Safety-Kleen | Pemex |   |
|    Bose | Morris Digital Solutions |   |   |
|    Tennant | The Home Depot |   |   |
|    Labatt | Annderson |   |   |
|    Kuka | Merchandisers |   |   |
|    Parmalatt | Wawa |   |   |